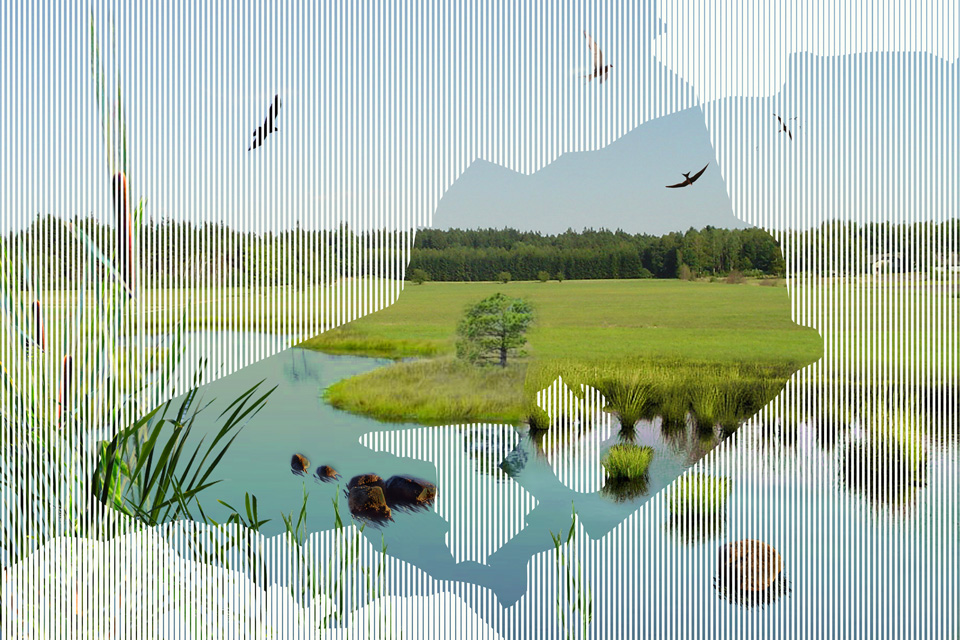 Bird Landcover, visualization
Motif on the glass front starting from bird protection foil and the outlines of international bird protection centers
Bird Landcover, visualization
Panorama 1
Bird Landcover, visualization
Panorama 2
BIRD LANDCOVER
Art in Building, invited competition for Ramsar Centre and Museum, Schrems, 2009
with Christof Schlegel
The task of the competition refers to the approx. 80m long and approx. 5m high glass surface of the Ramsar (nature protection) center Schrems / Lower Austria: The competition contribution should concern the surrounding wetlands, which mainly serve the bird protection, and a shading of the glass facade of the Center of 50%.
The competition entry BIRD LANDCOVER tries to question the anthropocentric view of the world or principles of anthropocentric perception of nature. The topics of seeing and being seen and spatial allocations of habitats are considered from different points of view:
Bird impact protection strip as shading
A vertical stripe pattern of 13mm width serves as the basic structure of the project. This pattern has been identified in several scientific tests as the most effective means against bird strike on large glass surfaces. (It also provides the required shadowing of exactly 50%.) The bird-visible and protective code also serves as a filter for the visitors' perception of human nature inside the Ramsar Center: the view as they walk along the glass façade appears as a single-frame film.
Geographical outline
In a further step, the theme of the protected areas is continued at the geopolitical level: the geographical patterns of bird protection zones with different characteristics of their external borders within the Ramsar areas are woven into a perforated protective skin, which is perceived differently by birds and humans. Outside the bird protection zones, there are clear views, masked viewing areas and directional views for the visitors. The interweaving of striped patterns / bird protection zones creates overlapping areas in which boundaries dissolve.
The fabric is a new geographic pattern that goes beyond local and political realities. It connects the Ramsar Center Schrems with other nature reserves and thus points to the habitats of the birds.
The building receives a camouflage cover, which integrates the architecture of the center in the existing landscape.